Good Morning Bloggers
How are you all doing? I must say I am not enjoying this sticky heat we in the UK have at the moment, but I hope it stays nice for my daughter & her fiance's engagement party on saturday.
Today is friday, so that means its 'New Release Day' at
and this weeks new release is called
this is my make with her
As soon as I saw her I knew I wanted to make her into a natural, woodland nymph.
I used pro markers to colour her and stayed with muted blues, greens & browns. I used sakura pens for her wings and the dotty detail on her bodice. I made her background by dotting with the tiny nib and bugger one with the 3 lightest shades of the colours I used on her. I used papers from my stash, die cuts of Tim Holtz-Elegant Flourish, Cheery Lynn-Tiny Things With Wings (I used the butterfly & dragonflies) and added some flat backed pearls.
If you go along to the store you can grab her with 20% off for a limited time :) so whats keeping you???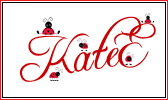 I would like to enter this into the following challenges: