Today see's something rather special,
ROLLER DERBY!!
Both Tamara & Betty have done amazing images for the Roller Derby and each one comes with its own challenge
I used
from
The Stamping Chef…..
I coloured Kitty with pro markers and added glossy accents to her lips and the wheels on her roller boots. I decided she needed to be bold & bright so went with orange, lime and cerise colourways & love how she turned out. I printed the sentiment from my laptop, it took me ages to think of something to go on this card.
If you want to play along you can find KittyPaw at The Stamping Chef and Bonnie at Simply B Stamps. The winners will get an amazing prize so go get your images and play
BUT
will you be Team TSC or Team SBS
the choice is yours
Happy Crafting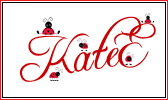 I would like to enter this into these challenges: