Good Morning fellow bloggers
I do hope you are all well and enjoying your crafting.
I have been having a bit of an argument with mr.mojo, he decided to take another holiday!!! So there was me mooching around not doing much when I got a message from my friend Carlyann and she asked me if I would like to join her DT on Charisma Cardz Challenges !!! blog :0)
Well i thought about it for all of 0.02 secs and jumped at the chance, mr.mojo had no choice now but to get his butt back to work.
I am on Team Carly and the challenge for this week is
CHIPBOARD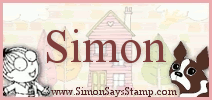 Who are offering one lucky winner a $20 voucher to their online shop!! Wow!
Simon Says Stamp has over 100,000 items in stock. They have all of the latest releases from Magnolia, Whiff of Joy, Tim Holtz, Spellbinders, Copic and so much more! With great deals on shipping, it's a great time to shop with Simon Says Stamp.
Pink Cat Studio
Who are offering one lucky winner 5 digi's of their choice!
and it just so happened that I had a project I had been wanting to get done since valentines day and it fit perfect with this challenge.
I started with a deep frame I had brought a few years ago and never used, and a chipboard man and woman figures I brought from a friend on facebook
I brought a packet of red & gold decoupatch paper, I wanted this to tie in with the colour of our bedroom. I didn't buy the special decoupatch glue and used a mix of normal child's pva and water. I tore the paper into little odd shaped bits and started covering the chipboard people.
Once I had covered all the pieces with 2 layers of paper and left them to dry I then added a coat of pva glue to act as a varnish and give a shiny finish.
After i had covered the figures I started on the wooden frame, doing exactly the same as I had to the chipboard figures.
While the pva was drying I made my own glimmer mist by mixing gold power paint, a drop of pva glue and water in a little spritz bottle,
and covered an a4 sheet of cream card with the spritzed mist, i wanted quite big 'blobs' so sprayed quite close to the card.
I left the spritzed card to dry overnight and then mounted it onto another sheet of card, slightly bigger so it would fit in the slot on the wooden frame, and stuck the figures to the spritzed card using foam pads.
The last step was to slot the finished card into the slot on the frame, attach the back and polish the glass.
Taa- Daa all finished
I am really happy with this as it was my first attempt at decoupatch and it looks great on our bedroom wall.
I hope my friends, that you will pop along to Charisma Cardz Challenges, take a peek at the other fab DT makes and join us in the challenge.
Happy Crafting
Kate xxx
I would like to enter this into the following challenges: